Lagos is a complex, chaotic, seemingly impenetrable city. It is a city with a fierce reputation, a cacophony of sound, color, and people. Yet, beneath Lagos's frantic surface is a rich, dynamic place with so much to offer the adventurous visitor. A great Lagos day for the casual visitor may begin at Oba Elegushi Market (also known as "Lekki Market"). The market is a bit like Africa. From the outside, it may appear poor, unkempt and pitiable. But like the pretty woman Africa is, the deeper you go into the market, the more of her beauty you get to discover.
Like Lagos, this market has gone through a lot, yet it keeps dazzling in breath-taking beauty. It was formerly in Maroko. In 1989, Raju Rasiki; the then Lagos state Governor, chased people away from Maroko. In 1990, it was moved to its current location. Like the biblical Isaac, as she was chased away from Maroko, Oba Elegushi market keeps flourishing.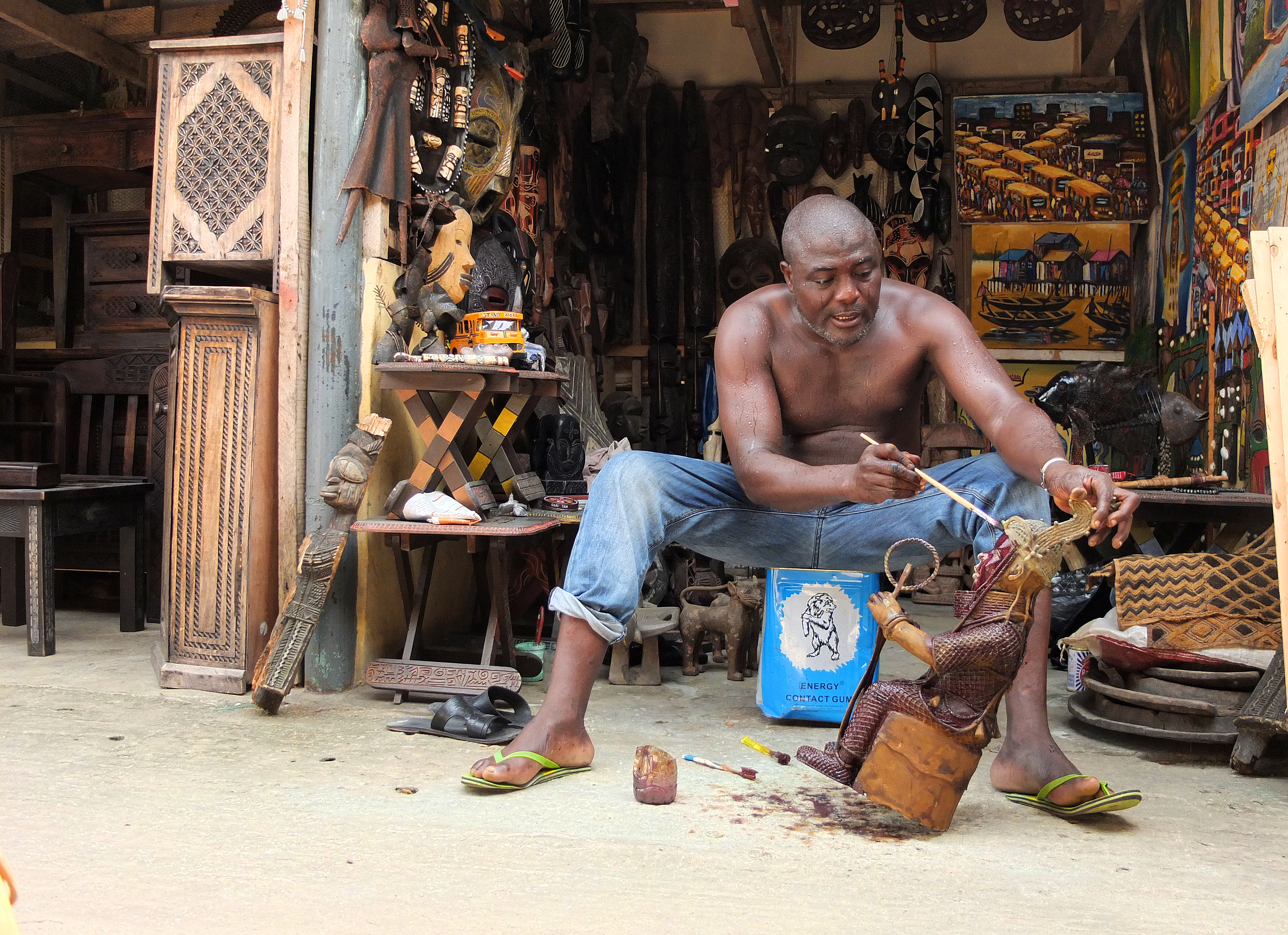 Want to go for a free art exhibition? Here is the place. Here, you'd see an artist who may not be fluent in English but their work is fluent in diverse human languages. Beyond the breathtaking African art, is the market. It's an art of itself, a mosaic of different brands of blackness. You don't just get to feed your eyes with the paintings of different genre, sculptures made from things beyond your imagination — precious stones, animal furs, leather and more, colorful African prints or drawings, you perceive sculptures and masks come to life before your very eyes through the muscles of sexy shirtless strong men at work. You'd also feel the music from sewing machines, chisels on wood, hawkers trading African dishes, water and different sorts of refreshments, tourists pricing the priceless creative outcomes.
With a few dollars, you could get yourself jewelry made from animal bones or teeth, vintage furniture adorned with animal furs, bags designed with Ankara or Kente from Ghana, a painting for your wall, a sculpture to turn whatever space into an enigma. Make sure you go with your camera and a full wallet. You may want to take a sit on that royal furniture. You may want to see how a jewelry carved out from a stone in Abeokuta feels on your wrist. You may want to remember the beauty of black. Make sure you go with your mind at rest. Here is a community of artists and art enthusiasts. Here is a place you can hardly forget.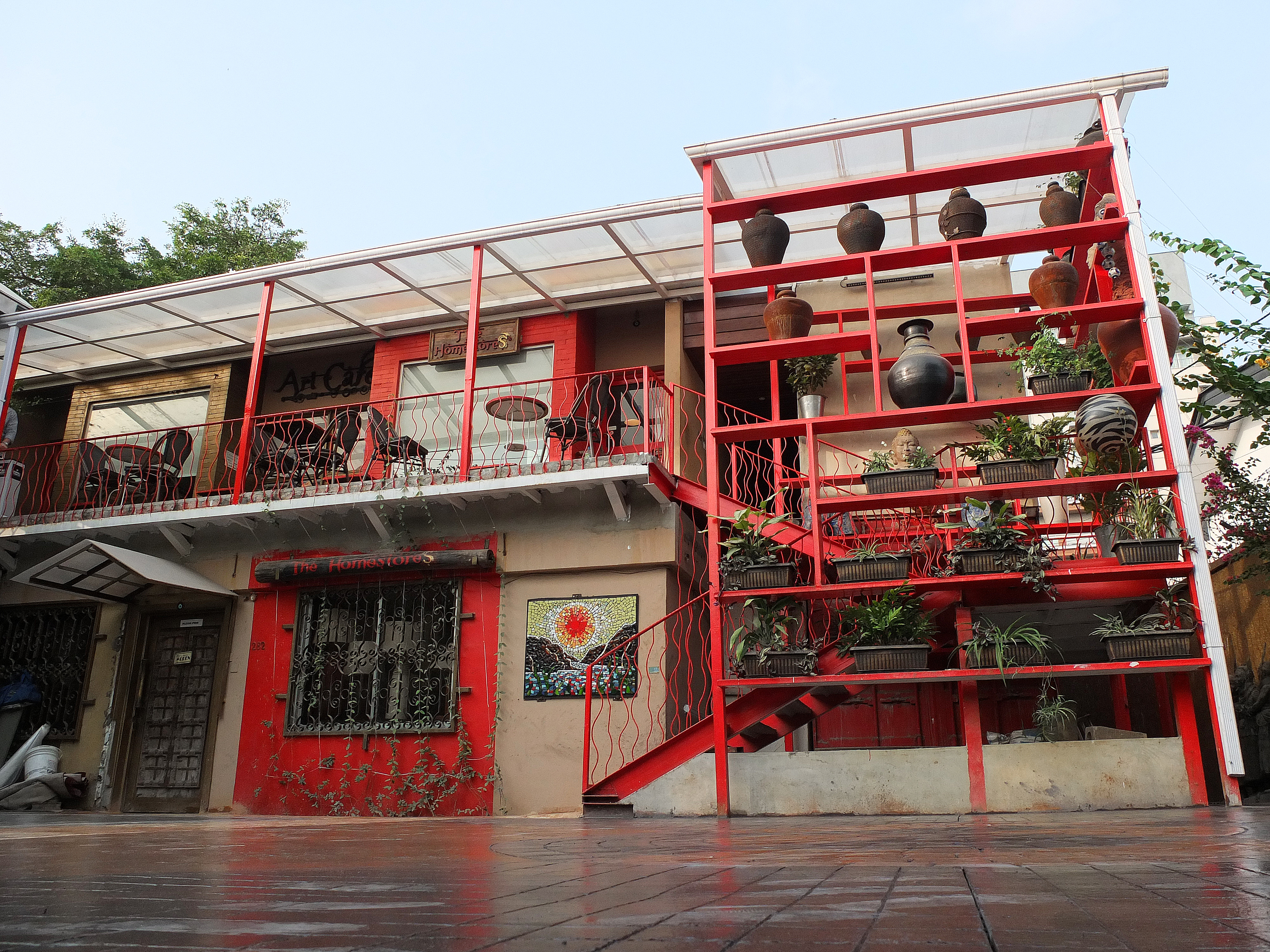 For some respite and reinvigoration after an afternoon of shopping, make a stop at the Art Cafe.
The owner of Art Cafe is a man of few words. He's a white man who has found peace and greener pastures in the heart of Africa. The beauty of the Art Cafe starts from the name. The entrance also bears the same ambiguity. A flush of curiosity would greet you as the security personnel at the gate opens the gate. You can hardly tell if you're going to a cafe or an art gallery as the building is more aesthetic than most museum structures and you could see the bar attendants serving drinks and some foreigners puffing out cigarette smoke in free African realm.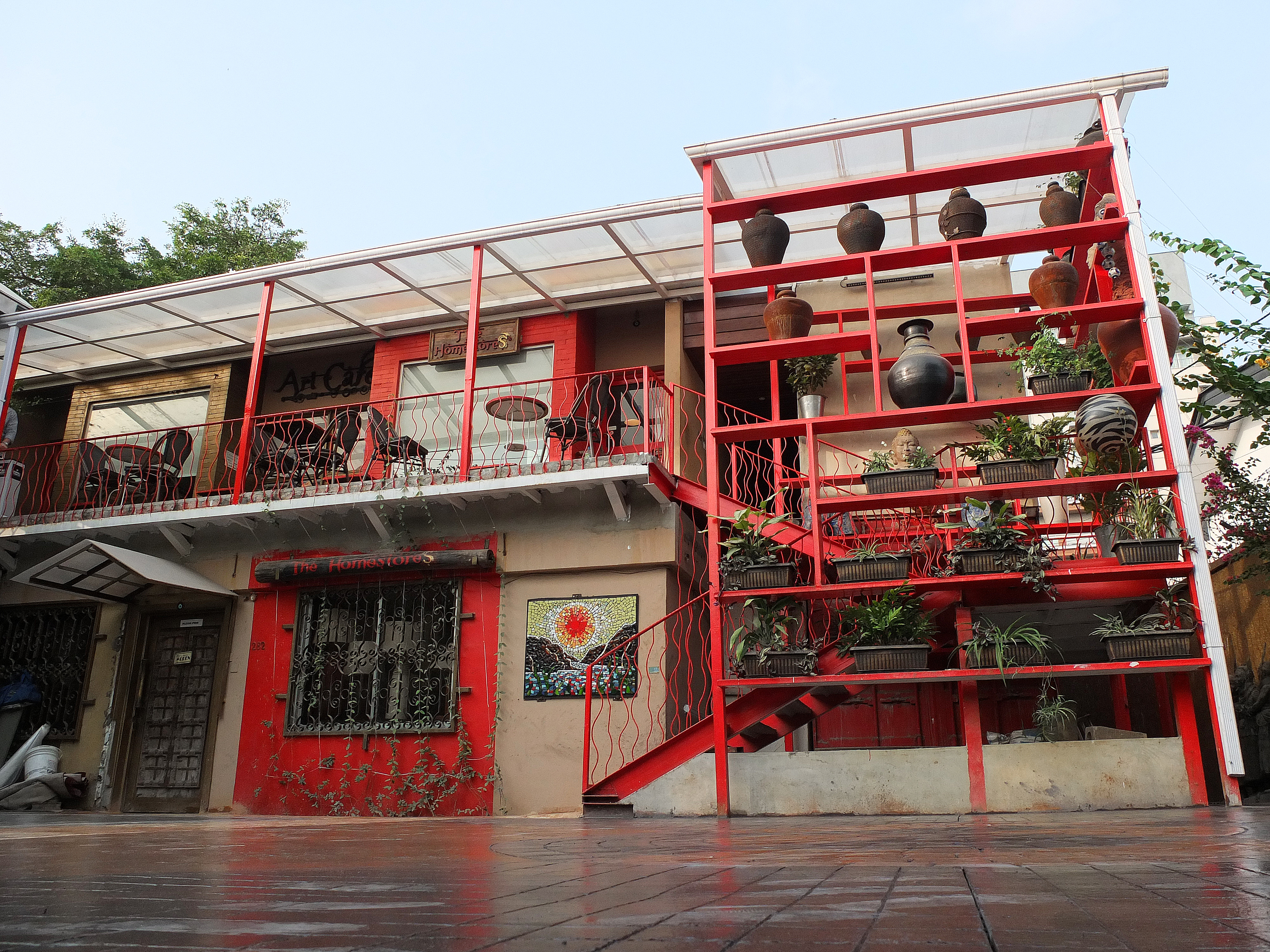 Upstairs, you could watch the streets of Victoria Island. From your view, you could capture the soul of rising Lagos pop-culture through the sartorial display of the cafe's patrons, Lagos architecture houses, the wheels on Lagos street or the melody from badass young Afro-hip-hop stars.
Once you open the door to the inner part of the cafe, some chill would go down your spine. Vintage furniture straight out of the home of an art enthusiast character in a Hollywood movie. Every corner here is worth shooting and framing in an art gallery. It's a language environment to stop for a cold beer or a shot of whiskey with friends. What else do you need in the evening after the normal day struggle in Lagos?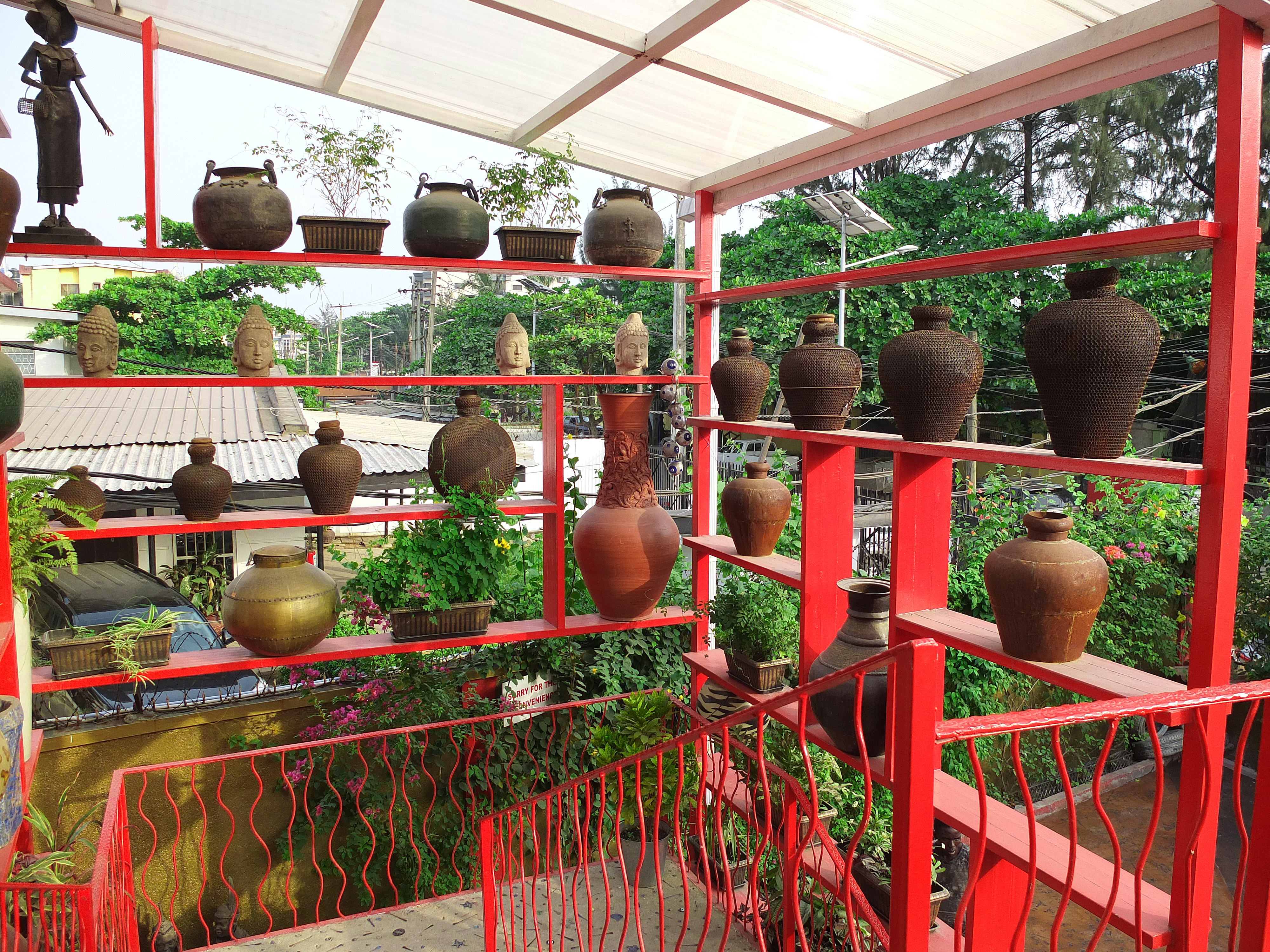 Calm with classy Lagos vibe, the Art Cafe is a spot you would meet people from any part of the world. At night, it glimmers with different rays of light. The bar attendants are cool, the management is flawless and the vibe is top-notch.
Once you are ready to kick things up a notch and explore more of Lagos art offerings, head to Bogobiri. Bogobiri is the ancient birthplace of the great African religious teacher, writer, and leader, Usman Dan Fodio. It is also the name of a popular district in Calabar; the Nigerian city of Love. In Lagos, Bogobiri is a hotel and an art cafe.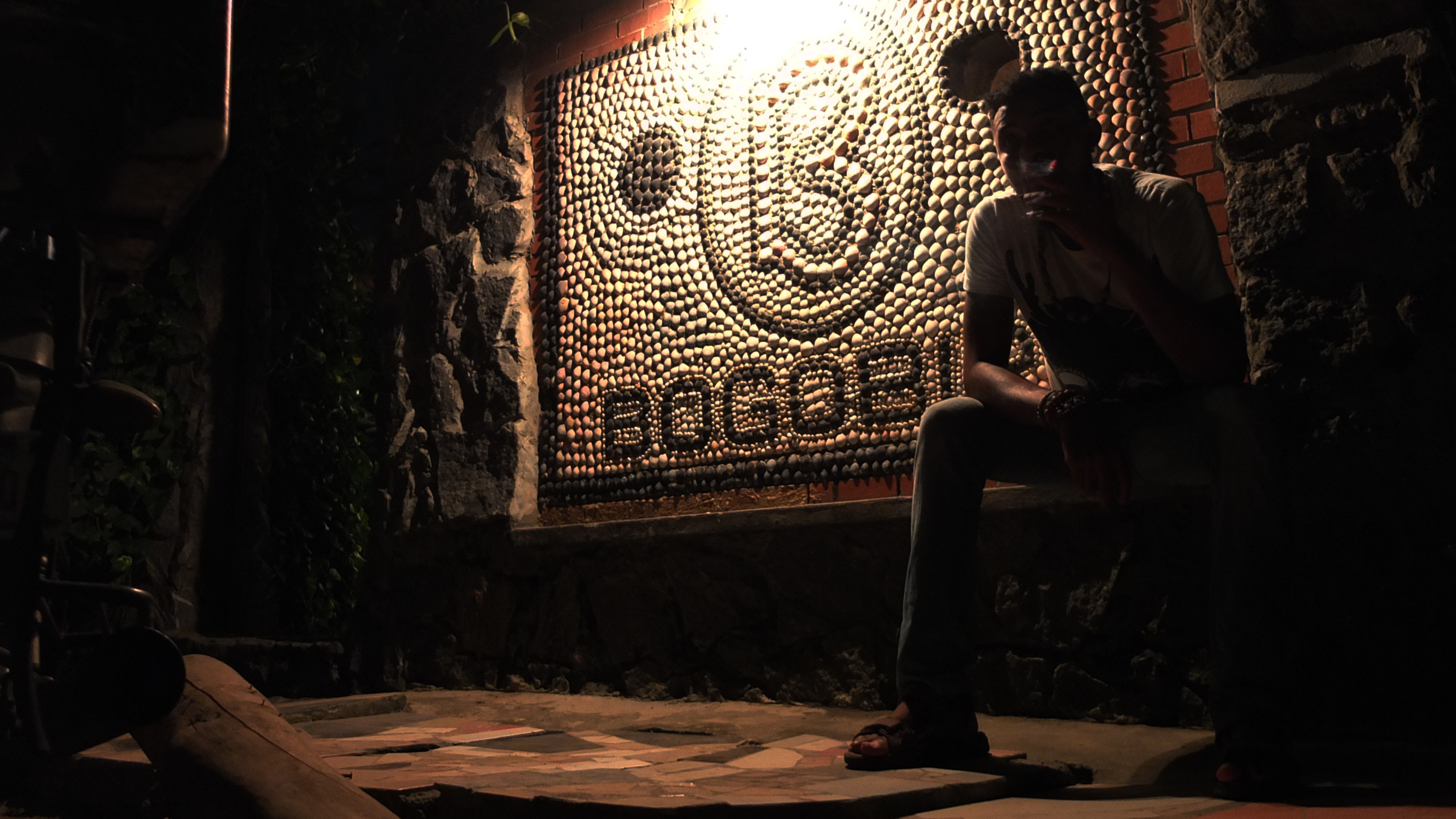 There's a sizable library here — containing classic literature, nonfiction, legal books, motivational bestsellers and books from various areas of life. As you walk past through it, your eyes would behold great African art.
Here is the place where rich Lagosians hang out. Here, you would meet bank managers, celebrities, artists, millionaires, has-beens, wannabes, and foreigners. The building itself is mythical. It houses art, fashion, music, delicious meals, youth and great energy. An in-house dj mixes genre and music from different parts of the world with a focus on Afrobeats. Bob Marley could be playing this minute, Tupac next on the playlist. Before you know it, you are nodding to South-African Mafikozolo or dancing from a new hit from Phyno, an evergreen sound from 2face, or some fresh music from Zayn, The Weekend or various popular world acts. Aside the music is the food — a blend of different tastes from Africa, Europe, Asia or America.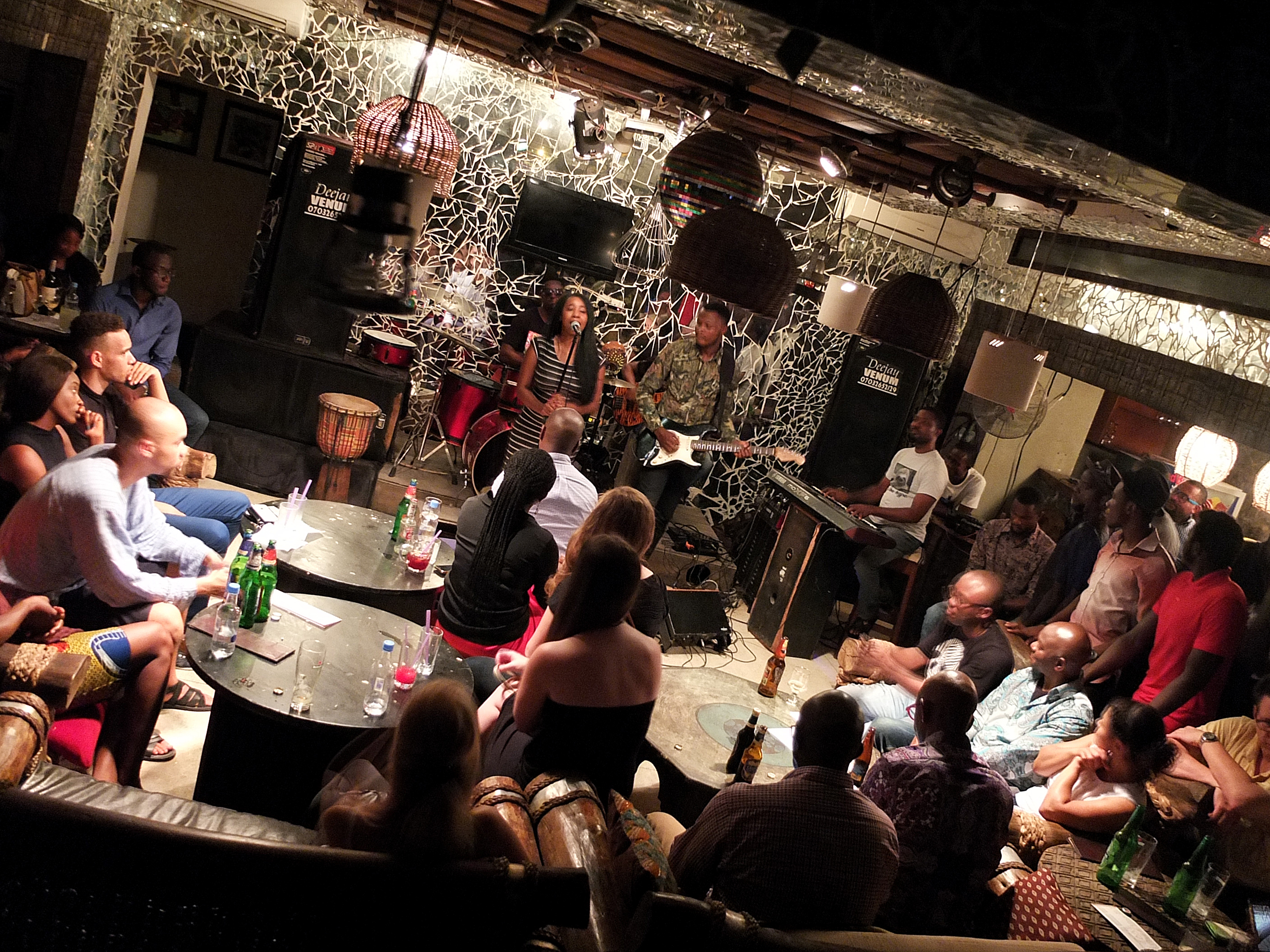 Every Thursday night, Bogobiri hosts an open mic. The players are crazy — drawing inspiration from different cultures to render entertaining performances. A diverse slew of performers bring energy, talent, swagger rendering poems like some legendary African poets evoking something Kofi Awonor, Christopher Okigbo, or JP Clark wrote or something contemporary African musicians like Olamide, Wizkid or Flavour sing. You could also feel the love in the air illuminated with vintage lighting and fumed with bubbling black power.
In the day time, it's calm. You could hold a business or creative meeting here. Bet me, you would be marveled by the contribution Bogobiri makes to Lagos, Nigeria, Africa or the world in general. It's not just beautiful, it's a place you'd meet intelligent Nigerians, engage in intellectual or universal conversations, take an escape from the world, enjoy a nice meal and get a touch of humanism and tales of Lagos.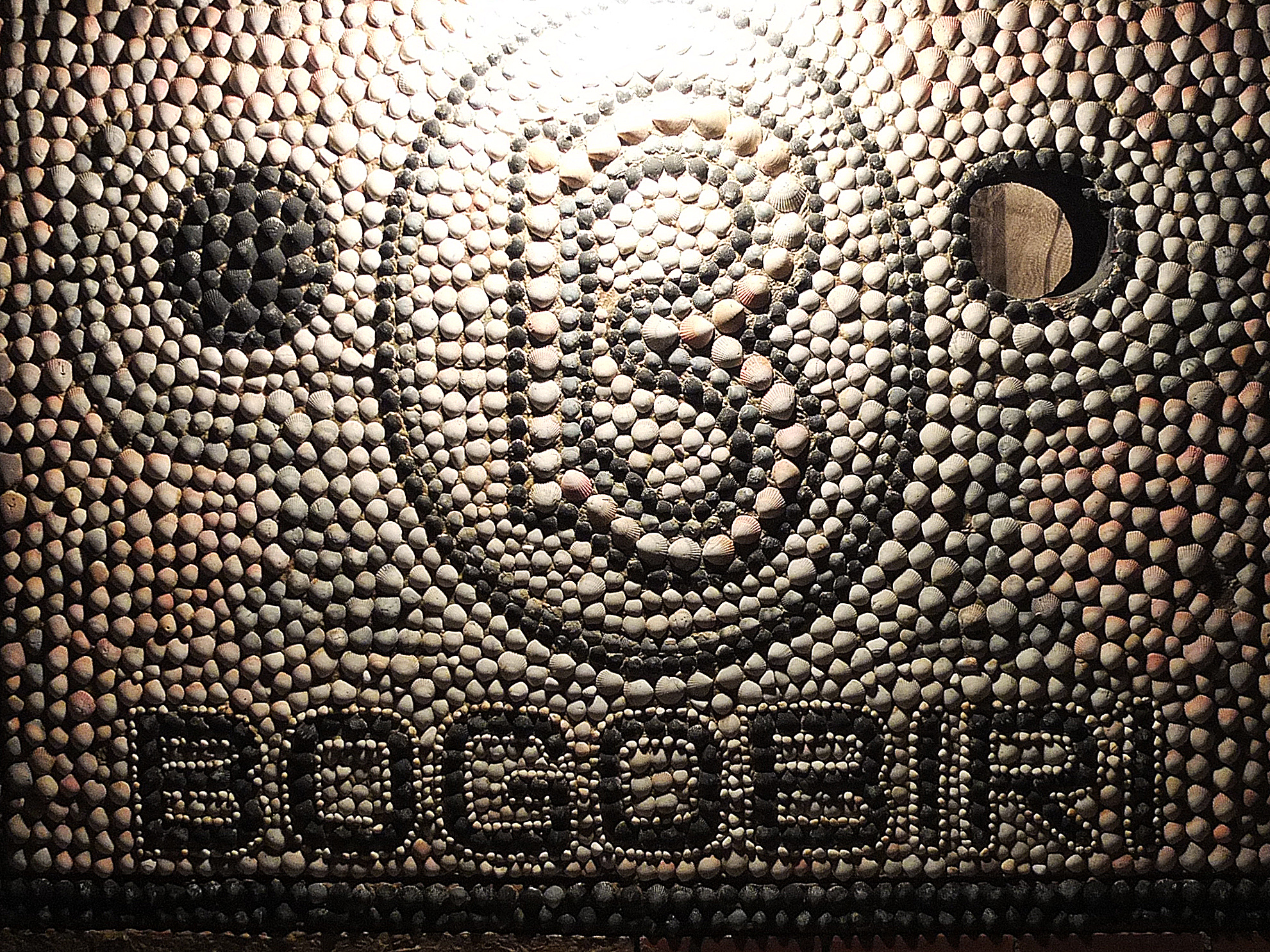 Bogobiri! Bogobiri! Bogobiri! Bogobiri is more than just an homage to class, history, and art, its a place that makes Lagos feel like home — saying 'welcome! welcome! welcome! welcome to the new class of blackness.
---